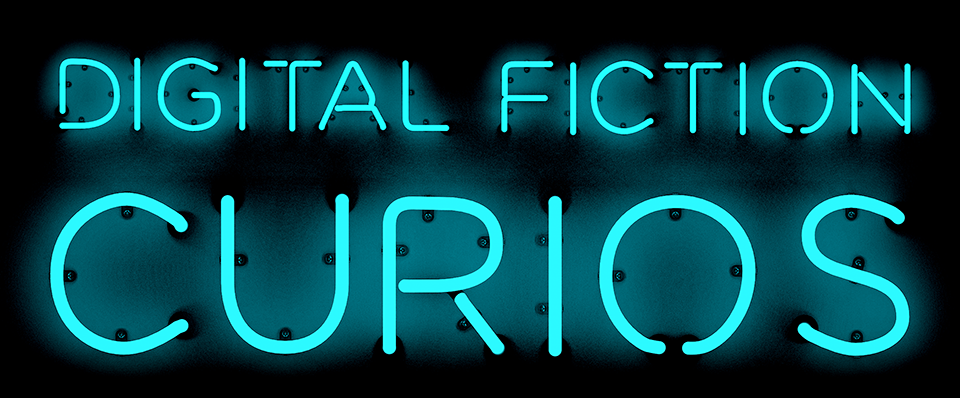 Digital Fiction Curios
A downloadable digital archive for Windows
Digital Fiction Curios is a unique digital archive/interactive experience for PC and Virtual Reality.
The project houses works of electronic literature created in Flash nearly two decades ago by artists Andy Campbell and Judi Alston of Dreaming Methods, One to One Development Trust's award-winning in-house studio.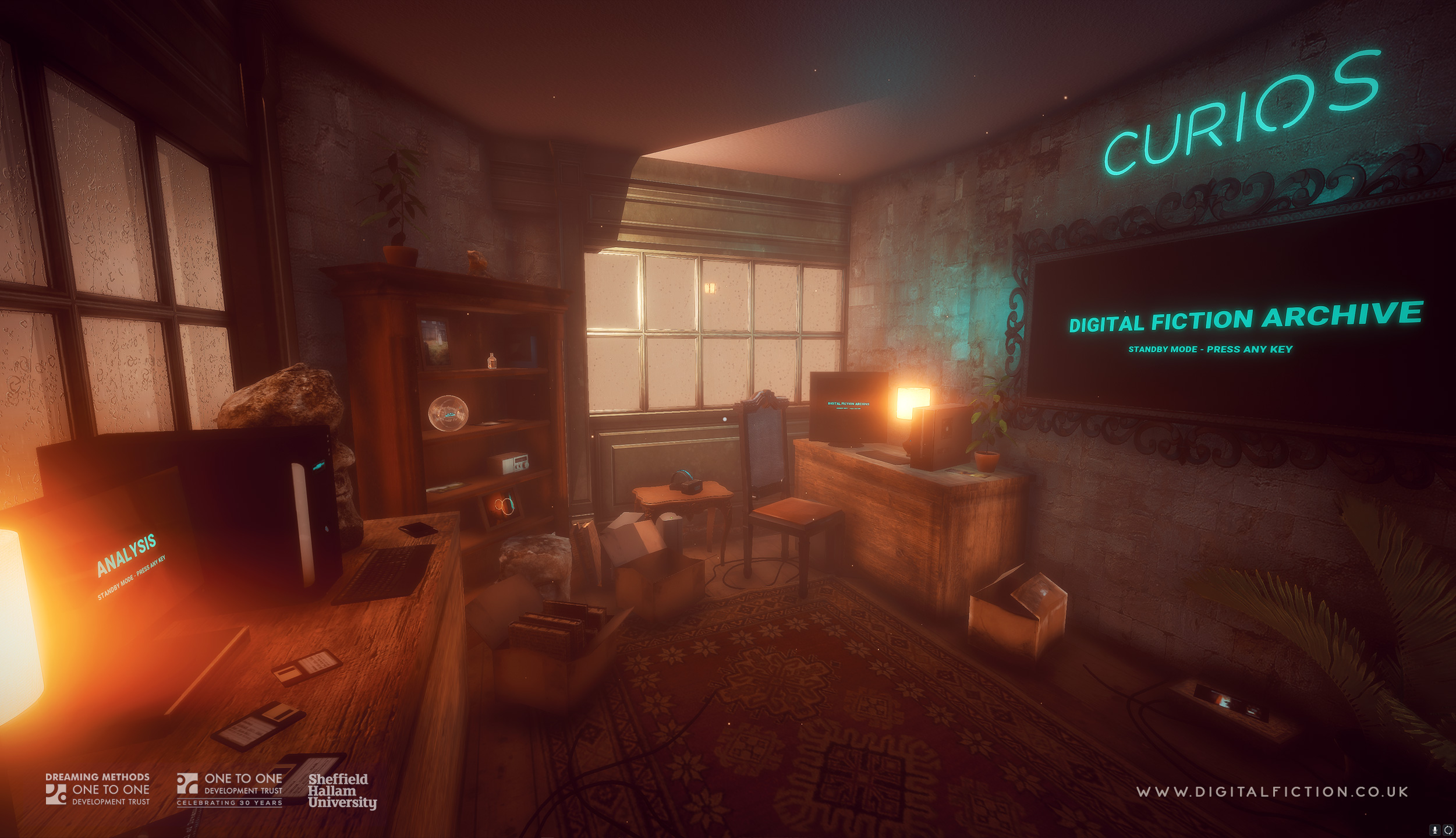 How is this an archive?
Dreaming Methods is responsible for some of the internet's earliest media-rich digital fiction.
Much of that work was created in Flash, a technology that was removed from mainstream web browsers in 2020. Curios archives and re-purposes three of our Flash works originally made as far back as 1999 and makes it uniquely possible to explore them in VR.
"Digital Fiction Curios has blown my mind... it opens up the conversation for how digital preservation can be presented." – Stella Wisdom, Digital Curator, British Library

From fragments of words held in glass bottles to sprawling apocalyptic dreamscapes, Curios offers an immersive glimpse into Dreaming Methods' signature world of dream-inspired narratives, living texts and lost realities.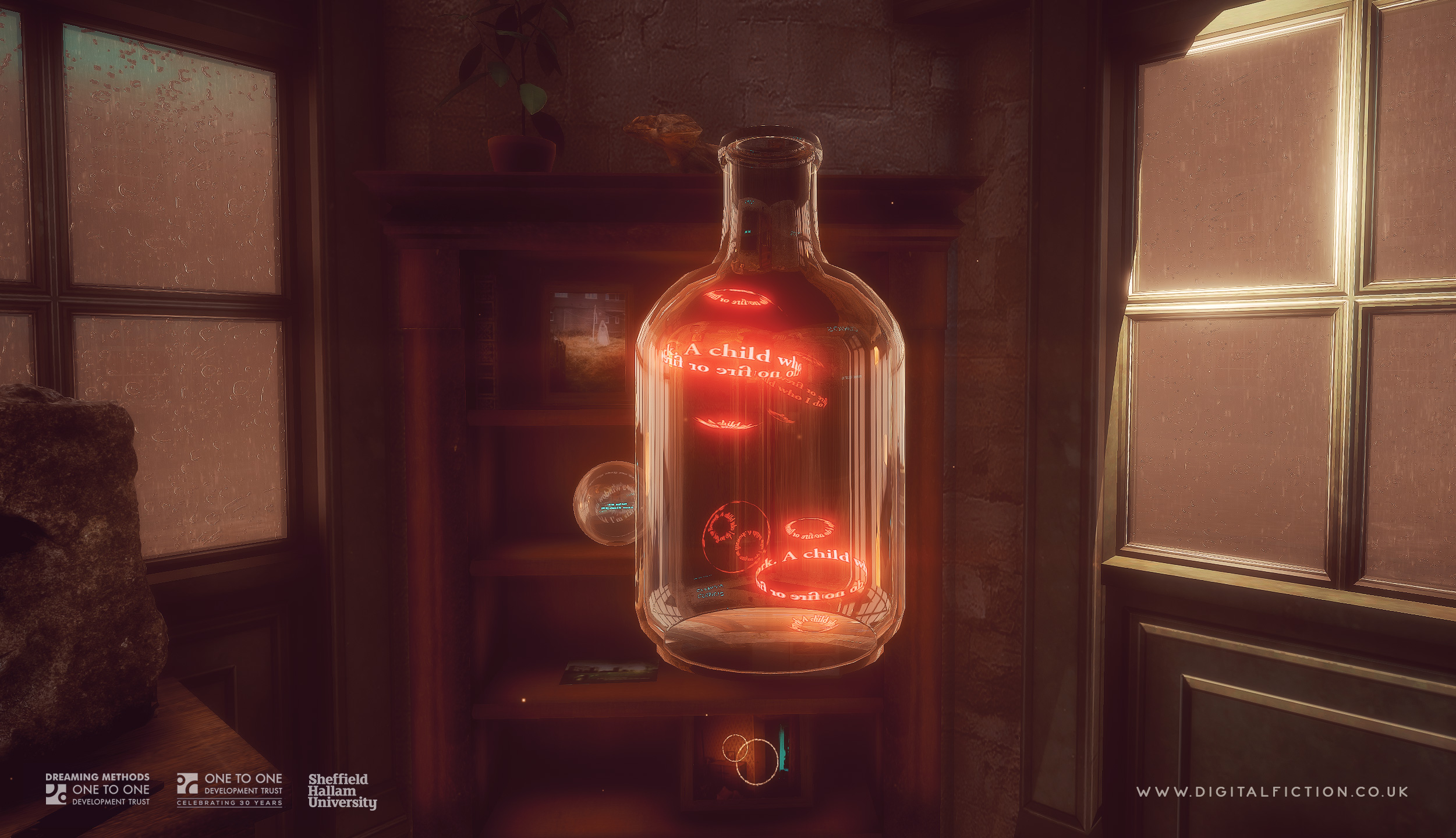 How does it work and who made it?
As a reader/player, Curios places you inside a mysterious 'curiosity shop' where all manner of historical items and gadgets can be picked up and explored. Almost everything on show was created digitally decades ago.
Curios is an experimental prototype developed by One to One Development Trust's in-house digital storytelling studio Dreaming Methods. We're working with Professor Alice Bell from Sheffield Hallam University who is a Research Consultant on the project.

Curios has been funded through Sheffield Hallam University's Creating Knowledge Impact Acceleration Account. The music is by Chris Joseph.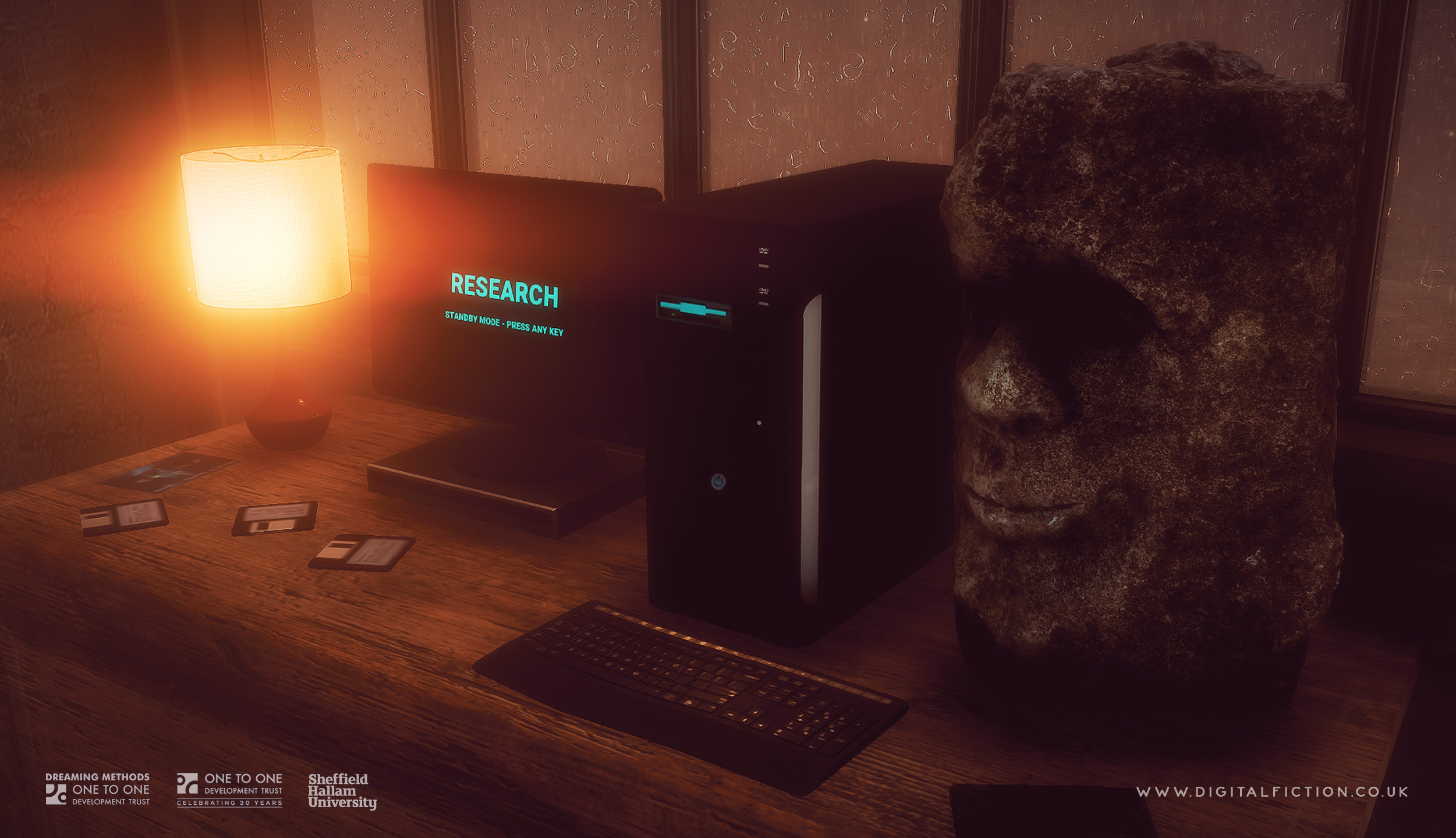 Do you have to have a VR headset to experience it?
Curios was designed for Virtual Reality. To explore in VR, it requires a PC and an Oculus Rift or Rift S. It may also work with a Quest/Oculus Connect cable.
However, although it's strongly recommended, you don't have to have a VR headset to experience it: the project is compatible with modern PCs and can be navigated with the keyboard/mouse. It also works on Windows touch screens.

* Please note that non-VR modes are highly experimental, more limited than VR right now and will be expanded on in the future. See the downloadable Guide PDF for more info.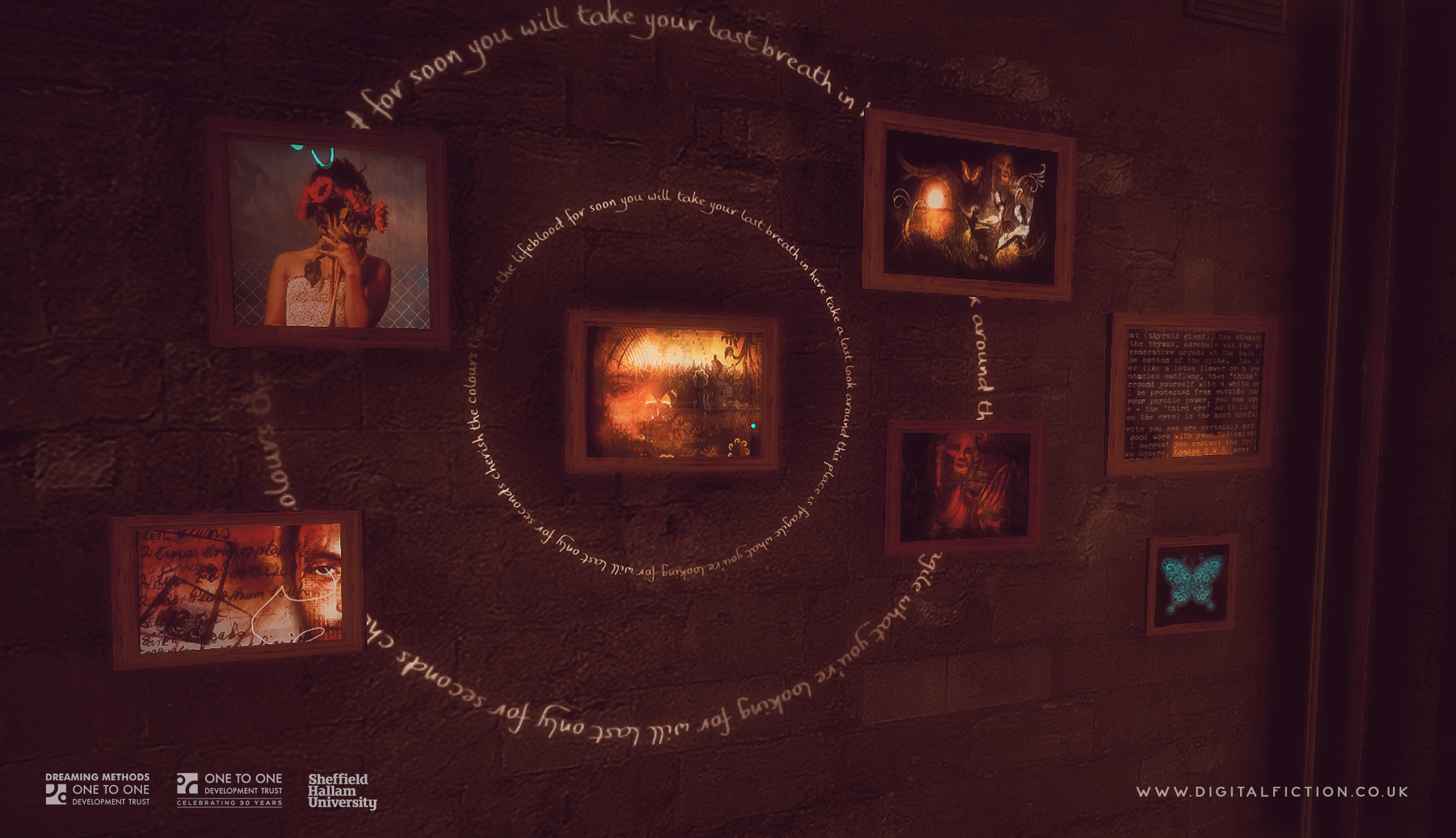 Who is it for?
Anyone with an interest in the history of digital stories, electronic literature, digital art or the history of Flash. Or - anyone looking for something immersive and unique. It's a prototype. An experiment: part game, part research project, part digital archive.
"Fabulous playing in the dreamworld of Digital Fiction Curios… What an amazing approach to creative curation!" – Katharine Cox, Professor of English and Head of the Department of Humanities and Law, Bournemouth University

Curios appeared at the Electronic Literature Organisation Conference in Cork and The British Library in 2019, and the New Media Writing Prize 10 year anniversary at Bournemouth University in January 2020.

The first prototype was shown in May 2019 at The Art House in Wakefield as part of Wakefield Art Walk. You can watch a film about that event here.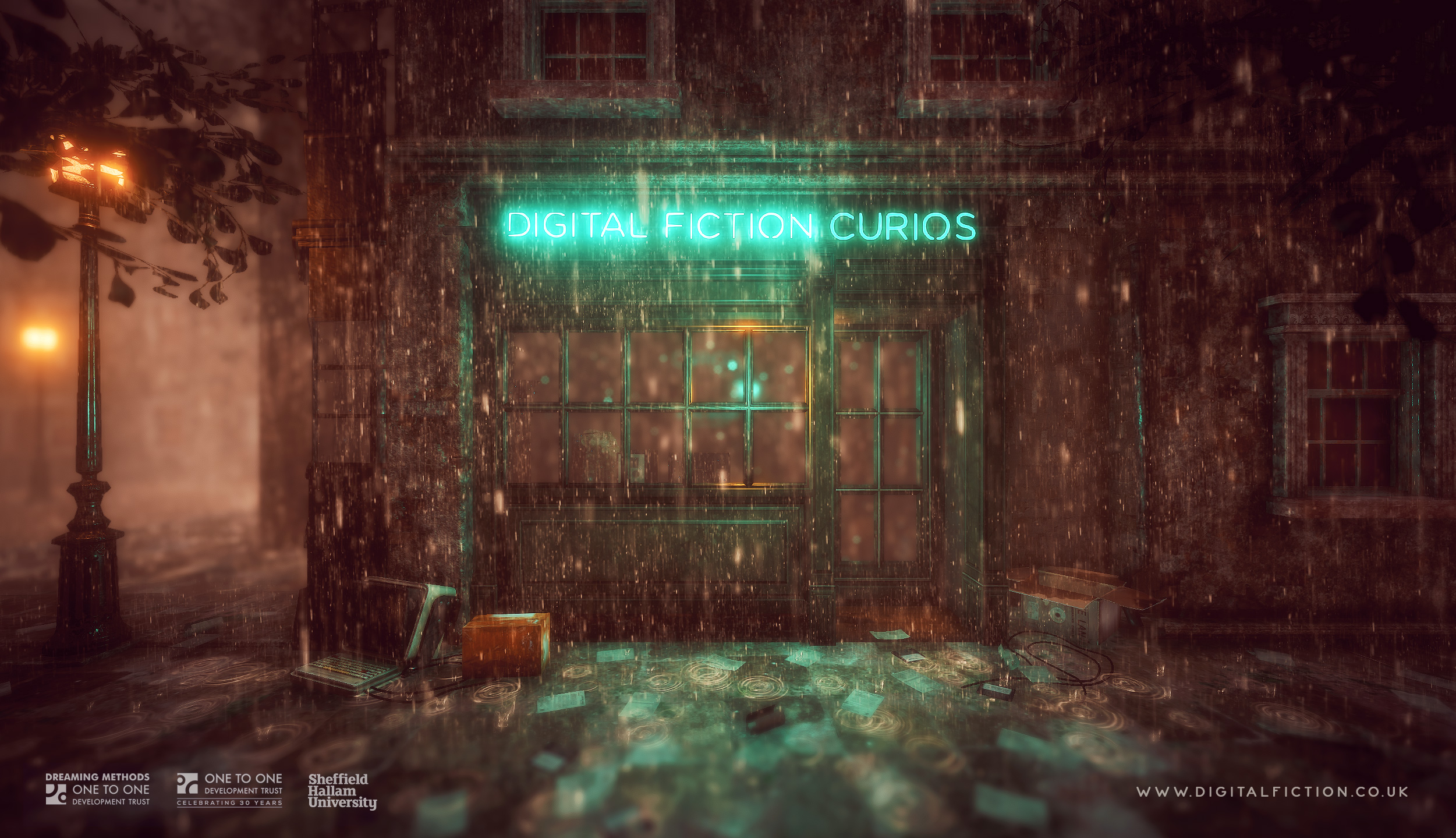 Support us
Curios is evolving and we'll be pushing out updates soon. Buy a copy of Curios now for $9 or more and get all those updates for free, plus standalone versions of some of our other early digital fiction work included: Inside: A Journal of Dreams (2000), Clearance (2006), The Flat (2005), The Rut (2004), Capped (2007), Dim O'Gauble (2007) and Glimmer (2009) - all of which previously required a browser and Flash Player but are now possible to view as standalone applications with no plugins required.

Visit www.digitalfiction.co.uk to find out more about Curios.
More Digital Fiction
If you're interested in Curios you might also be interested in some of our other experimental digital fiction titles, including:

WALLPAPER
All the Delicate Duplicates
The Water Cave (VR)
Aphiddd
Inkubus
| | |
| --- | --- |
| Status | Prototype |
| Category | Other |
| Platforms | Windows |
| Author | Dreaming Methods |
| Genre | Interactive Fiction |
| Tags | 3D, artgame, Atmospheric, Dark, digital-fiction, electronic-literature, Virtual Reality (VR), weird |
| Average session | About an hour |
| Inputs | Keyboard, Mouse, Touchscreen, Oculus Rift |
| Links | Homepage |
Download
Click download now to get access to the following files:
Digital Fiction Curios for PC/VR
978 MB
Digital Fiction Curios Guide
209 kB
Curios High Resolution Desktop Wallpaper
3 MB
Dreaming Methods Standalone Projects
157 MB
if you pay $9 USD or more
Comments
Log in with itch.io to leave a comment.
Looks cool but any plans for non vr release?
Hi there, thanks for your question. The current release of the Curios prototype works on PC without VR. We are looking to incorporate an FPS style interface shortly - at the moment it's more of an emulation of VR's teleport mechanics, which isn't ideal, but you can still look around and explore the archive OK. :)